"Tere Alawa"
— chanté par Himesh Reshammiya
"Tere Alawa" est une chanson interprétée sur indien sortie sur 30 Peut 2023 sur la chaîne officielle du label - "Himesh Reshammiya Melodies". Découvrez des informations exclusives sur "Tere Alawa". Trouvez les paroles de la chanson Tere Alawa, les traductions et les faits sur la chanson. Les gains et la valeur nette sont accumulés par les parrainages et d'autres sources selon une information trouvée sur Internet. Combien de fois la chanson "Tere Alawa" est-elle apparue dans les classements musicaux compilés ? « Tere Alawa » est un clip vidéo bien connu qui s'est classé parmi les meilleurs classements populaires, tels que le Top 100 inde des chansons, le Top 40 indien des chansons, et plus encore.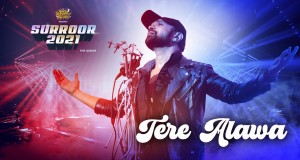 Pays
inde
Ajoutée
Titre original de la chanson
Tere Alawa (Official Video) | Surroor 2021 The Album | Himesh Reshammiya |
Reportage
[Pas lié à la musique ] [Ajouter un artiste associé] [Supprimer l'artiste lié] [Ajouter des paroles] [Ajouter la traduction des paroles]
Himesh Reshammiya "Tere Alawa"

Unlimited Converts to MP3

costs $18 one-time purchase
"Tere Alawa" Faits
"Tere Alawa" a atteint 24.2M vues au total et 98.5K J'aime sur YouTube.

La chanson a été soumise le 30/05/2023 et a passé 3 semaines dans les charts.
Le nom d'origine du clip vidéo est "Tere Alawa".
"Tere Alawa" a été publié sur Youtube à 30/05/2023 09:00:02.
"Tere Alawa" Paroles, Compositeurs, Maison de disques
Tere Alawa is a master composition by maestro rockstar Himesh Reshammiya from the mega blockbuster hit album Surroor 2021, it is the 5th track from this timeless album which will take all music lovers on a beautiful journey of romance pain and passion, it's a super treat for everyone in love ❤️
#TereAlawa #Surroor2021 #HimeshReshammiya

♪Stream the Full Song Here♪
Spotify:
Apple Music:
Amazon Music:
Resso:
Wynk:
YouTube Music:

Song: Tere Alawa
Singer: Himesh Reshammiya
Music & Lyrics By: Himesh Reshammiya
Featuring: Himesh Reshammiya
Music Programmer's: Suhas Parab, Subhash Parab, Priyesh Vakil, Barzin Contractor, Pratik Panchal & Sneha Inani.
Sargam : Mohd Danish
Sarangi: Dilshad Khan
Mixed and Mastered: Salman Shaikh at HR Musik Studio
Assistant Mixing Engineer: Anudutt Shamain
Assistant Sound Engineer: Vishal
Guitar: Deepak Sinha

Blessings by : Vipin Reshammiya & Madhu Reshammiya
VIDEO CREDITS
Directed by: Himesh Reshammiya
Produced By: Himesh Reshammiya Melodies
Video conceived by Himesh Reshammiya
Director of Photography: Maneesh Chandra Bhatt
Production Designer: Sunil Jaiswal
Choreographer: Imran Sardhariya
Costume Designer & Stylist: Sonia Kapoor Reshammiya
Project Consultant: Jitendra Patel
Finance Consultant: Chintan Patel
Consulting Producer: ;Singh
Song Editor: Parth ;Bhatt
Promo Editor: Swapnil Patre
Executive Producer: Rajendra Bhikaji Toraskar
Finance & Account Manager: Rahul Sheth & Prakash Serrao
In house Marketing: Ravi Desai
Digital Promotion - Being Digital
PR Team: Communique Film PR
Legal Advisor: Tapas Dasgupta
Himesh Reshammiya Make Up Artist: Ganesh Palav
Himesh Reshammiya Hair Stylist: Nauman Naushad Salmani (Hairaffair with Numan)
Himesh Reshammiya Staff: Nilesh Dubey, Roshan Sav & Pradeep Kumar Ray
Makeup : Aslam Sardar
Hair : Rajab Ali
Company Make Up & Hair: Rajesh Gupta & Team
Publicity Design: Loki's Studio -Sachin Maruti Lokhande & Atul Janardan Tarkar
Stills: Swapnil Loke
Production Boys: Omprakash Mishra, Omprakash Yadav, Gopendu Patta & Sagar Adhau
Camera: Media Tools
VFX, Colour Grading & Post Production Studio: Image Devices (I) ;Ltd.
Special Thanks: Ingrooves Team

Enjoy & Stay Connected with us!
Himesh Reshammiya Facebook-
Himesh Reshammiya Instagram -

Himesh Reshammiya Melodies
Subscribe to Youtube -
Like us on Facebook -
Follow us on Instagram -
Follow us on Twitter -
Graphique hebdomadaire atteint (Top 40 des chansons)
La position la plus élevée dans le classement musical de la chanson est #5. La chanson est apparue 1 fois au total dans le Top 10 ; 1 fois au total dans le Top 20 ; Le pire classement de la vidéo est #386. "Tere Alawa" est entré dans les classements musicaux de 2 tendances (pays) :
Graphique mensuel atteint (Top 40 des chansons)
La position la plus élevée dans le classement musical de la chanson est #5. Le pire classement de la vidéo est #311. "Tere Alawa" est entré dans les classements musicaux de 1 tendances (pays) :
Tableau quotidien atteint (Top 100 des chansons)
La position la plus élevée dans le classement musical de la chanson est #5. "Tere Alawa" au sommet du classement des 100 meilleures chansons pendant 2 jours au total. La chanson est apparue 6 fois au total dans le Top 10 ; 1 fois au total dans le Top 40 ; Le pire classement de la vidéo est #73. Trouver tous les graphiques journaliers - Top 100 indien Chansons